March 19, 2021
Published by Muriel Skusa
Here Are 8 Content Marketing Tools That Will Make Your Work Easier
About 88% of B2B marketers use content marketing to attract, convert and retain new visitors while building brand visibility and connecting with their customers. Content marketing tools are crucial in complementing a solid content strategy by getting the job done easily and more efficiently.
What Kind of Content Marketing Tools Do You (Really) Need?
Achieving your content marketing goals has a lot to do with creating valuable and relevant content for your audience. This includes using tools to discover what people are searching for on the web, as well as incorporating trends, analysis, and collaboration.
Keyword and Topic Research Tools
Search engine optimization (SEO) has evolved a lot in the last decade, and it's now much harder to rank in search engines. One thing that has remained constant is the keyword research process.
A keyword research software can make a significant difference in your SEO efforts by giving you a broad range of queries to target, their ranking difficulty, and level of popularity, among many other factors.
This ensures that you're targeting opportunity keywords with low competition and a high monthly search volume.
Tools to Help You in Content Creation
Most marketers agree that the biggest hurdle in content marketing is production and execution. In today's digital and visual era, staying ahead of the marketing game involves keeping up with the demands of the modern, sophisticated customer who wants to be entertained, informed and engaged.
Leveraging tools that help you in the content creation process, such as stock photo libraries, poster makers, infographic creators and video editors, is critical to your success.
You could also consider ordering website content writing if you need professional help with written content.
Content Collaboration & Review Tools
Collaboration among colleagues is important in creating relevant, valuable and audience-targeted content. This pooling of ideas, knowledge and expertise to create content not only helps improve quality, it also results in an engaged workforce and streamlined processes.
Collaboration and review tools make it easier than ever for your team to review, approve and share content instantly.
Promoting Your Content
Crafting high-quality and engaging content takes a lot of hard work and dedication. However, this is not enough to grow your blog or business. Content promotion is an intricate part of content marketing that is responsible for attracting readers to your blog to increase traffic.
As with every other thing in life, having the right content promotion tools makes it simple to reach your desired audience in little time.
Tools to Help You Analyze Content
It is almost impossible to improve your content marketing efforts and scale to the next level unless you are consistently analyzing your current performance. Such analysis will help you uncover any opportunities or threats so you can adjust your content marketing strategy as needed.
A plethora of content analysis tools focus on traffic, keyword density, crawlability, metadata and many other pieces of technical information.
8 Content Marketing Tools to Check Out
The content marketing technology landscape is growing by the day with tens, if not hundreds, of tools being released every year. It can be overwhelming to wade through the pile and find what works best for you. So, we've done all the digging – now check out these 8 premium content marketing tools.
Ahrefs – for researching keywords & topics
While Ahrefs is mostly known for backlinks analysis, it has evolved over the years, adding tons of features such as SEO site audit, website authority checker and many more. The keyword explorer tool stands out as it offers marketers awesome ideas on keywords and in-depth information including the search volume and the number of clicks on each keyword by searchers every month.
Additionally, Ahrefs offers a keyword difficulty feature which helps you estimate the number of backlinks you'll need to rank for a particular keyword.
TubeBuddy – for YouTube keyword research
TubeBuddy is a free extension for both Chrome and Firefox browsers that offers valuable SEO insights on YouTube's sidebar. It's a useful tool for digital marketers who can optimize their video content for more views and engagement based on TubeBuddy's keyword recommendations.
TubeBuddy can help you automate repetitive tasks such as creating and posting stock responses as well as finding comments easily with its comments filter feature. Additionally, it shows related search terms, overall score out 100, tags, keyword competitiveness and search volume.
Renderforest – for Video Creation
Renderforest is an intuitive, cloud-based platform designed to create videos, logos, animated icon, infographics, kinetic typography, slideshows and more. Renderforest has a simple user interface, with a shallow learning curve to help novices create projects quickly and effortlessly.
Creating your first video on the platform is quite simple – just pick a template, edit it online and export it for use. You can also upload your own videos or photos for custom projects. More importantly, Renderforest gives you the convenience to save your projects to its cloud storage which can be accessed at any time.
StoryChief – for copy creation
StoryChief is a unique tool that combines several aspects of content marketing for seamless content distribution and collaboration. Editors and social media managers can plan, co-create and distribute content across different platforms in a matter of clicks.
StoryChief also delivers a blog editor with a built-in on-page SEO checker to help optimize content as well as readability scores. The StoryChief platform allows seamless collaboration as multiple users can invite and involve colleagues in content creation.
Venngage – for image creation
Venngage offers a fun and engaging platform for anyone to design visuals in a matter of minutes. With its easy-to-use features, Venngage sets itself apart as the perfect tool for crafting detailed and sleek infographics.
In addition to infographics, you can easily create reports, posters, icons and social media posts from hundreds of provided templates. Additionally, Venngage's drag-and-drop interphase and its free-from canvas coupled with customizable themes and clipart offer users a wide range of options to transform their ideas into engaging visuals.
Filestage – for content review & approval
Filestage is an online proofing tool that makes it extremely simple to review content and leave feedback. Creative teams can streamline their approval workflow by reviewing images, videos, documents and audio files in a matter of minutes by leaving comments and annotations directly in the specific file.
Since all feedback is documented automatically, the collaboration with team members and external partners is easy and transparent. Filestage also allows external reviewers to leave feedback without signing up, which makes the approval process much faster than traditional workflow tools.
Buffer – for content promotion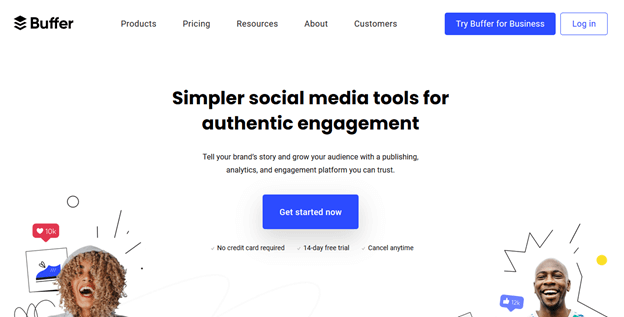 Buffer is a popular social media scheduling tool used by marketers and social media managers all over the world to drive traffic and improve engagement. Buffer enables you to post on multiple social platforms from one central location and even provides analytics on the level of engagement your content is getting.
You can schedule multiple posts to be automatically posted at strategic times for optimum results. In a recent update, Buffer introduced an awesome feature known as Buffer Reply which helps users interact with their followers from different social networks.
Mention – for content analytics
Mention is a cloud-based, social media analytics and social listening tool that helps brands monitor the web and gain valuable insights from online conversations. Using Mention, you can track what clients are saying about your company on the web and then adjust your marketing strategy accordingly.
Mention's integration with third party apps like Buffer, Zapier, and Slack makes it easier for users to explore more options. The tool also comes with a social media management feature, allowing you to schedule and post content on different social networks.
Evolve With the Content Marketing Space
The content marketing space is rapidly evolving with new trends coming on the scene every year. To stay ahead of the game, business owners and marketers must adapt quickly and utilize the latest and most powerful tools that can automate a sizable chunk of the job. Companies should also consistently utilize analytics to gauge performance.