October 05, 2020
Published by Ron Stefanski
High Impact Ads - What Are They and Why They're Successful
The current global pandemic has seriously affected businesses and consumer behavior. Add to that the recent Amazon affiliate rate cuts and Google algorithm updates, and you have an uncertain situation with businesses everywhere scrambling to survive.
Although ad rates have been hit, as well, display ads have always been a solid business model, and they continue to provide an effective way for businesses to capture a few seconds of their customers' fleeting attention spans.
In this article, I'll discuss what high-impact ads are and how they can help you get the results you want from your marketing campaigns.
What Are High Impact Ads?
Remember the old saying: 'right message, right consumer, right time'? Well, today's consumers demand a lot more than that. It's now vital for brands to identify moments that allow them to go beyond the ad itself to help them build a strong and lasting emotional connection with the consumer.
In order to build the kind of relationship that keeps the user engaged and interacting with the business, an impact needs to be made where, and when it matters most.
And that's where high-impact ads come in.
In its purest form, high-impact advertising refers to non-standard, scalable ad formats that have rich media features. At their core, these large-canvas formats use creativity to capture the attention of your audience, invite interaction, and build an emotional connection.
Research shows that these types of ads are 78% more likely to entice a consumer to learn more about a brand or product. They are also 40% more likable than standard display ads.
The success of high-impact digital ads depends on the following factors:
Ads must be highly engaging formats served intelligently across various screens
They must be delivered on certified inventory so as to not break websites
High impact ads also need to have a light file size to avoid slowing page load speed
Real-time performance analytics must be available to inform the campaign's optimization
Finally, high-impact ads need to include a high universal frequency capping level
It's clear that this form of advertising has massive creative potential and while it is typically done in the retail industry, it can really be applied to any industry out there. This is something that makes it stand out from other types of digital advertising, and it's also the reason high-impact ads may be a great option for your brand.
Why Are Display Ads a Great Option for Your Brand?
Consumer attention spans are fleeting. According to a study by Forrester Research, consumers today are exposed to about 7,000 marketing messages daily, and over 60% of people don't remember the last digital ad they saw.
That's why it's essential for businesses to find more innovative ways to maintain customer engagement across screens.
Immersive high-impact ad formats will help your business create a lasting impact. The interactive options and increased canvas sizes will allow you to produce exciting new ad experiences for your audiences.
Here are more reasons why high-impact ad units could be powerful for your brand:
They let you break through the clutter and get heard above all the noise
They allow you to create relevant, useful and engaging ad experiences
You can capture the viewer's attention in a split second
High impact ads offer real-time targeting and superior evaluation capabilities
Get higher consumer response rates compared to standard display ads
This is a great opportunity for today's digital marketers to break through the clutter of advertising messages with well-executed creative messages for their brands.
Examples of High Impact Ads
Marketers everywhere are striving to get a firm grasp of the nuts and bolts of this type of advertising, which is no surprise considering that high impact ads have the potential to increase consumer response rates much more than their standard display counterparts.
But, as more players are entering the field, it's important to understand the factors that make high impact ads effective. As a marketer, you need to know which solutions are available right now, as well as which advertising providers are the best in the industry.
This will help you avoid making the wrong choice that could end up disrupting your audience's experience (and lead even more of them toward the dreaded ad blockers).
Here are 5 examples of high impact advertising campaigns from some well-known brands:
1. Interactive Production from Porsche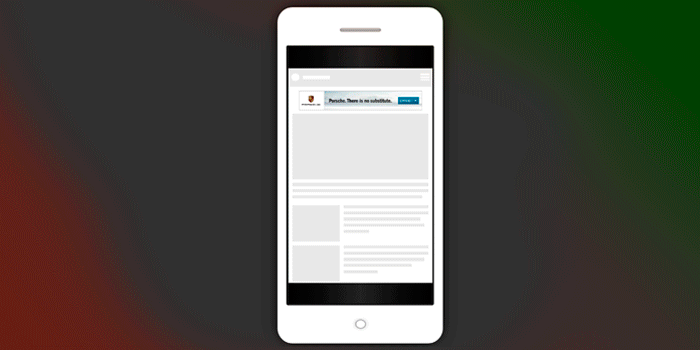 Source
Why this ad is effective:
This ad is great because interactive banners are among the most effective types of high impact ad formats. They offer a unique and interactive ad experience that treats the consumers as partners who can interact with the ad either for educational or entertainment purposes.
2. Reactive Animation Ad by Jean-Paul Gautier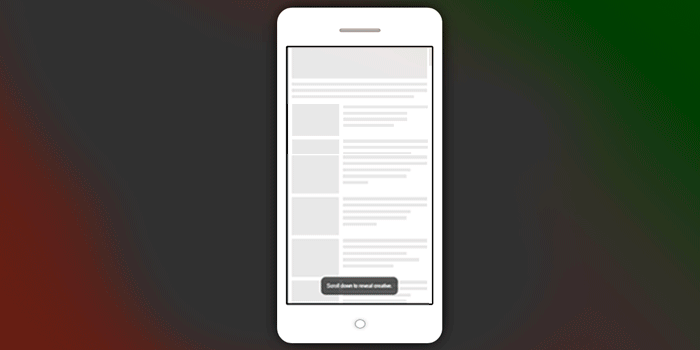 Source
Why this ad is effective:
This ad is effective because reactive animations respond to the number of pixels that a user scrolls the ad, in relation to the content on the page. This means that the user has control over the ad story, and they can zoom and fade as they move down the content.
3. Interactive Ad by Thomas Bro Bagels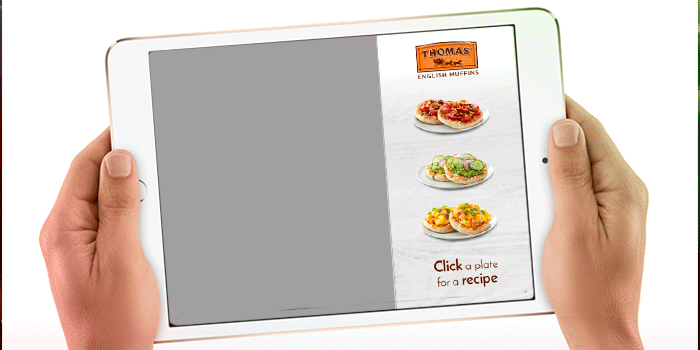 Source
Why this ad is effective:
This particular type of ad works because it has a simple invitation to interact. In this instance, users are asked to choose a bagel in order to see the recipe. The user can also toggle between other recipes to get more ideas. This is a great ad unit to build brand awareness.
4. Classy Creative by Chloe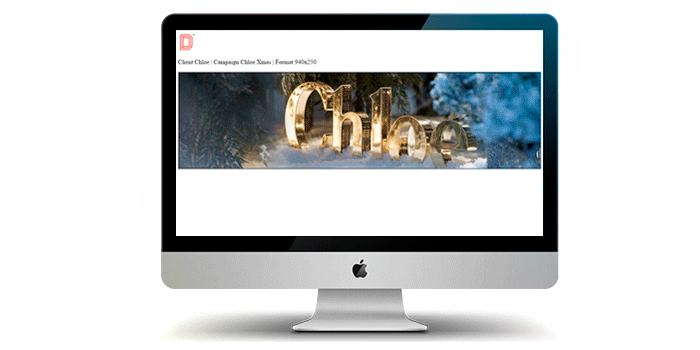 Source
Why this ad is effective:
This type of ad makes it evident that you don't need to reinvent the wheel with each campaign you run. You can build a successful high impact ad even without a huge stock of creative assets. All it took for this ad was 3-4 high-resolution images, and animation to guide the user's eye to the clear call to action.
5. Dynamic Banner Ads by J. Crew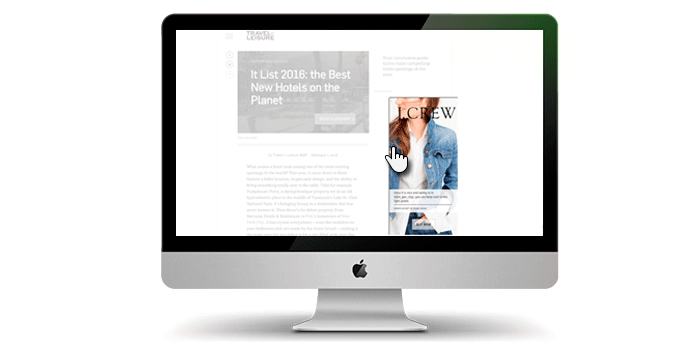 Source
Why this ad is effective:
This ad works so well because it's clean, simple, and intuitive. The messaging is designed to catch the eye of the user, and it's tailored to their city. This is an unexpected twist and it encourages users to linger on the ad for a few seconds longer.
Can you see how these types of ads are perfect for driving consumer engagement?
By using high impact ad formats effectively, these five brands have managed to cut through immense clutter and noise to deliver immersive ad experiences through multiple touchpoints across all screens.
The placements of the ads consider tablet and mobile behavior patterns when consuming content, as well as overall user experience.
Also, the storytelling approach to digital advertising allows brands to give consumers the feeling that they are actually part of the entire creative as they explore content on their devices.
Keep in mind, if you use a fully integrated marketing campaign approach utilizing both high impact ads along with well-edited highly engaging youtube videos, you'll be able to hit your audience with the right messaging multiple times, which will likely increase conversions.
Use these examples to get your creative juices flowing when you start building your next marketing campaign.
Rich Media vs. High Impact - What's the Difference?
For some, the difference between rich media ads and high impact ads may be confusing.
Rich media ads differ from other advertising formats in that they include animation and other types of motion. With rich media ads, you can engage more actively with web users that you would with standard text or display formats, thanks to things like videos, audio, and various other elements that encourage your audience to interact with the content.
Rich media ads can expand and float, and so on. You have access to aggregated metrics on audience behavior, including multiple exits, number of expansions, and video completions. This gives you granular data on your campaign's success.
As an example, someone may have started a sports blog and grown to the point where they decided to start using interactive ads. One of the ads they may want to replicate is this one from ESPN that showed real-time scoring and how much more time was left in the game.
The possibilities of rich media ads are endless, you just need to have coding knowledge and a great idea. Though, a tool to A/B test ad units doesn't hurt either.
Now, High-impact ads allow you to amplify the effect of rich media.
They are designed to be highly interactive. According to research released by Inskin Media, an eye-tracking study indicated that high impact formats like pageskins draw the consumers' eyes to the ad for longer. This means that with the amplification effect of this ad format, you have the ability to increase brand engagement dramatically.
Summing it all up:
Text ads sell with words;
Display ads sell with images;
Rich media ads give more options to engage with audiences;
And high impact ads amplify the effect of rich media ads.
But what does the research say?
Ads with longer visual engagement times are known to increase brand recall. This study found that brand recall is highly correlated to business KPIs like improved brand perception, purchase intent, and more.
This presents huge implications where media planning is involved:
Attention to text ads, display ads, and rich media ad formats is becoming extremely scarce (and levels are dropping by the day).
This means that marketers who plan to garner visual attention and optimize their investments more effectively must now look to high impact ad formats for the opportunity to reclaim their audience's attention and maintain engagement levels for longer.
Speaking of audience attention, make sure you are using social media scheduling tools to find the best times to schedule these ads and launch them when it's most likely for your audience to see them.
High Impact Ad Size Best Practices
With high impact ad units, you will produce superior results compared to all other types of advertising formats, including:
An image area that is larger and more interactive
A viewer experience that is more dynamic
Stronger engagement from consumers
Higher brand interaction and recall
Increased numbers of clicks
But, in order to get better digital options for your marketing campaigns, it's important to choose the right ad sizes to get you the best results.
Here are some ad type examples for both mobile and desktop to help you decide on the best high impact ad sizes for your brand to use.
1. Wallpaper Ad Unit
Ad Size: 1920 x 1080 pixels (Live areas on the sides are 200 x 625 pixels)
This is a sticky image that takes up the entire background of a website. These ads are designed to always appear to the left and right of the page content. Some websites may also have parts between content blocks where the background layer is displayed, as well.
Source
2. Pushdown Ad Unit
Ad Size: 970 x 90 pixels (Expands to 970 x 415 pixels on entry to the website)
Pushdown ads are creative ads that push down the content on a webpage when the ad expands, moving the content out of the way in order to display the ad. These types of ads are browser-only and they cannot be served on mobile screens. Pushdown ads are great for large websites and advertisers.
Source
These days, wherever we go, our mobile devices follow. Mobile has become more ingrained in our lifestyles than any other media with studies estimating that by 2025, nearly 72% of consumers will only use mobile to consume content. This has prompted many marketers to wonder: Which are the best high impact ad sizes to boost my mobile marketing campaigns?
As reported in the Mary Meeker report:
People spend 29% of their daily screen time looking at their smartphones
Mobile data traffic across the globe grew nearly 70% this year
In the U.S., mobile commands over 24% of all media time
Time spent on mobile media is 51% higher than desktop
As a consequence of this, mobile advertising is significant for advertisers and brands. When done right, it can trump many other ad formats to give you amazing results on your marketing campaigns.
Here are the top high-impact ad sizes for mobile marketing:
3. Interstitial Ads
Ad Size: 320 x 480 pixels, 300 x 400 pixels, or 300 x 250 pixels
These are visuals that are designed to cover the whole mobile screen. They allow for more context and clearer CTAs. With interstitial ads, you can use more creative content, including video, store locator, and more.
Source
4. Mobile Anchored Large Banner
Ad Size: 320 x 100 pixels
These types of ads are anchored to the bottom of the screen. They remain visible until closed by the reader. This is undoubtedly one of the best mobile ad formats when it comes to high impact advertising campaigns.
Source
5. Expandable Mobile Ad Units
Ad Size: 320 x 50 (Expands to 320 x 480 pixels, 300 x 400 pixels, or 300 x 250 pixels).
Source

Summary
In the world we live in, where attention has become a scarce commodity, high impact ad formats offer a great opportunity for companies that want to stand out and boost brand awareness.
For those interested in learning more, I searched a number of online course platforms to try to find a helpful course and was able to find this one from Lynda.com which will explain the best practices of rich media ads in far more detail.
Use the ideas and tips in this post to help you make your next high impact ad campaign a success.