December 24, 2020
Published by Raffy Montehermoso
Do I Need a Website for My Business? 7 Reasons to Get Ahead Online
Is it necessary to have a website? If you have a physical store or a social media page that is bringing in customers, you might ask - why do I need a website? What are the benefits of having one?
Consumer behavior has changed, and so should your business too. McKinsey has reported that digital adoption is speeding up among US consumers. In the grocery industry, for instance, 30% of regular users of online channels are more likely to continue using websites and apps. The other 31% of first-time users will stick to using a digital platform.
As a small business owner, you have to adapt to changing times or risk missing out on new ways to increase customers. Let us take a look at some reasons so you can see for yourself why a business needs a website.
1. Make Your Business Appear Online
In the 21st century, searching in Google or any other search engine is a frequent activity. Customers search online for a product or service and compare options before deciding which one they would like to buy. Having no online presence is like opening a store in the wilderness. Nobody knows that your business exists.
Rehan Fernando, the CEO of EIGHT25MEDIA, has said 70% - 80% of people usually visit a website or research a company on the web before deciding to purchase. Google drives 1.9 billion direct connections monthly. It is whether the customers are looking for directions or looking for a business. Compared to 10 years ago, there are 350 times more searches in Google for keywords with a local term in 2019.
Thus, you cannot afford to get behind. Your business has to appear at the moment when customers are looking for the exact product that you have.
2. Credibility and Positioning Your Brand
The first impression not only applies in the appearance of a storefront display. Your web page is also the first thing that prospective customers will look for or check before deciding to make a purchase. A professional web design adds a layer of integrity to win the trust of the customer.
From the colors, fonts, to layout, you can position your business in a way that attracts customers like magnets hooked to your website. It is critical to have the appropriate branding to make your website appeal to your target market.
You're fully in control of how you want your business to appear online. The perception of your customers about what they find online about your business is crucial. It can make or break their choice to buy.
3. Compete with Similar Businesses
Why does a business need a website? Because your competitors already have one, eating up your share of customers without knowing. For instance, such as when people search for a home renovation contractor in their location. Your competitor may have already introduced their services, pricing, and how to contact them via their web page before they even knew you existed.
Your business might offer a much better service. However, the customers are more likely to choose the one that has briefed them already if you do not have a website that displays crucial information to compare their choices.
Competing with larger, more established businesses is also possible when you have a professional web page. Every single website is edging each other out to capture the online visitors within 7-15 seconds. Beat well-known brands in your industry by capturing the attention of web visitors in an instant on your page.
4. It is not Costly, Easier to Update.
It can be intimidating to think that small business website development is expensive. A brand new domain only costs around $10 to $12 to register, and website hosting amounts to an average of $20 to $50 a month. The upfront costs of a website will vary. It will not cost anything if you choose free website builders and do it yourself. You may also opt to hire professional web developers or freelancers if you want a more polished website.
The traditional method of flyers and brochures can cost anywhere from $200 to $1,500 for design only. It does not include printing costs and applicable shipping fees. The huge limitation, however, is that you cannot update them once printed.
Take, for example, the case of updating your business telephone number. Printed brochures with your phone number are going to cost another set of leaflets when you change numbers. On a website, you can change the telephone number in an instant.
Compared with offline advertising, where you can only provide a bit of detail, having a website packs all the information your customer needs. There is no limit to the words and images you want, and you can revise it anytime there is a need.
5. Helps You Save Time
Websites are an online version of a brochure but with the added perks of having all the necessary information on display. You do not have to answer repetitive questions from prospective customers. As long as you lay out all your business details on the website, they will know right away what to expect.
Another advantage is you can sell online thru your website. E-commerce is becoming the norm for people nowadays. In a physical store, you need to answer several customer inquiries, such as if a product is available in a specific color or size they can choose. When you have a website, all these simultaneous inquiries get answered in an instant.
A 2017 survey by KPMG has shown that online purchases amount to an average of $189 spending per transaction. In North America, a single person conducts an average of 19 transactions per year. Correspondingly, that is more than one purchase a month. As a small business owner, you need to consider online consumers and how they can impact your sales.
6. A Website Provides Additional Marketing
While offline advertising is still essential for a business, you need to have more ways to reach customers in this cutthroat competition. Word-of-mouth marketing is not complete without asking where to know more about your business.
A website complements your marketing activities in a lot of ways. Moreover, there are paid options if you want to reach out to more people. Without a website, your business lags behind online marketing opportunities.
According to IAB.com, buyers expect digital ad spend to increase 6% in 2020 versus 2019. On the other hand, traditional media is expected to fall 30% in 2020, stated by respondents of the survey.
7. Social Media Presence is not Enough.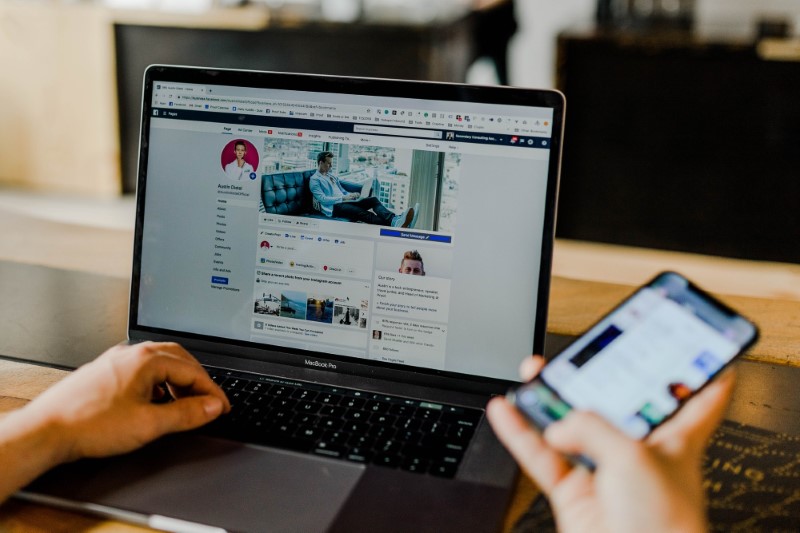 You might ask - do I need a website if I have a Facebook page? Facebook, and any social media platform for that matter, is created for social interaction. Social media is an avenue for you to communicate with your customers. Consequently, it does not have all the flexibility of having a website.
You cannot optimize the Facebook page to show up in Google the way you would on a website since you do not have access to the source code. You are at the mercy of the updates and layout of the social media platform. They can even take down your page when someone reports it or if there is inappropriate content they deemed not fit.
One of the most effective ways to market your business online is by having both an active social media page and a well-optimized website. This way, you are giving more options for consumers to reach out or know more about your business.
Does every business need a website?
From large establishments, B2B companies, dentists, and even your local landscape contractor, they all place information about their business on their website. Regardless of the industry, you have to influence the buying decisions of your customers with a credible website.
In the United States alone, more than 100,000 accommodation and food services already have a website. Construction companies with a website tally up to 300,000. Almost a million businesses involved in professional and technical work are already online. The numbers are way back in 2012, according to Statista, so expect that more business is already putting up their website.
Small Business Website Development
Several options are now available for a small business to have a website. You can choose from having a few static pages or a full e-commerce website, depending on your needs. Be aware of the benefits of SEO for your website to rank well in search engines, and you will be on your way to gain more customers.
If a website for your business sounds interesting, start by having a website concept. Plan the right design that best represents your brand. For a small business, there are design services such as Delesign to guide you in coming up with an ideal website look. You have access to a dedicated designer who will come up with a web design ready for development. The monthly subscription of Delesign provides flexibility, so you do not have to spend varying amounts per project - whether it is a website design or an ongoing work to update images on your website.