May 25, 2020
Published by Maria De La Peña
Toptal vs Upwork: Which Site is Best for Hiring Designers?
If your business needs graphics designed, your first option should be hiring the experts at Delesign—a graphic design company that offers quality design services with a 15-day money-back guarantee. The second option is hiring freelancers from the two rival platforms: Toptal vs Upwork. Both Toptal and Upwork are in the same market with slight differences in their service offerings.
Ease of Account Creation: [Toptal vs Upwork First Step]
Before you can access the features of either of the freelance websites, you need to create an account. We started off our Toptal vs Upwork comparison with the account opening process.
For Upwork, opening an account required the following steps:
Select "Create an account".
Input your name, password, country and select the "Hire for a Project" option and get the account.
Finally, you need to answer 4 questions to have a company profile on the platform.
Now, Toptal has a completely different account creation process. Instead of filling our details first, we had to answer about 12 questions around the project and our company.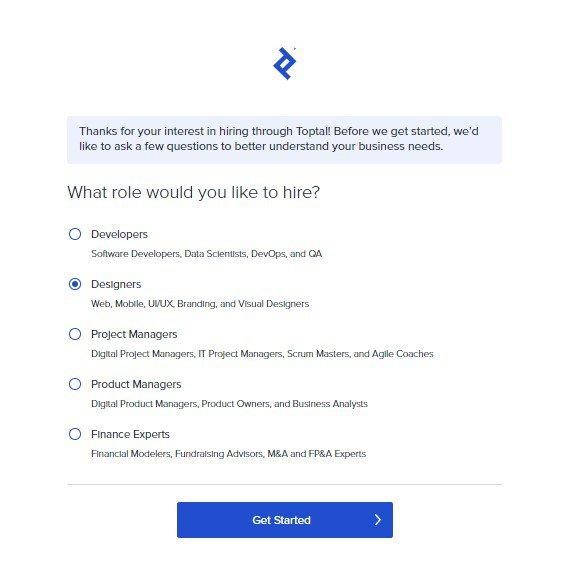 Filling the questionnaire also did not lead to account creation like in the Upwork process. Instead, we had to schedule a call with the Toptal Talent team. However, it is important to note that on both websites, account creation does not equal immediate access to job opportunities. We still had to cross another hurdle of applying to have our profile hoisted on both websites.
Toptal vs Upwork: In terms of ease of entry, Upwork's process was straightforward and if you were working on a deadline-driven project, this platform would be a better choice. Toptal, on the other hand, required us to fill out a 12-page questionnaire and speak to the Talent Team before gaining access to their graphic designers. While it helps to know that the Toptal team is interested in helping you achieve your goals, such a long process is off-putting if you're working with tight deadlines.
Finding a Freelancer: [Hire Options]
In this Toptal vs Upwork debate, with Toptal, after speaking to the Talent Team on the requirements of our project, we were finally about to gain an account. In our discussion with the Talent Team, we had the option of:
Letting Toptal handle the hiring process and match us with suited candidates; or
Go through the resumes of freelance graphic designers ourselves.
Since Option 1 meant the company had already vetted their talent, we went for it.
However, for Upwork, we were generally left to our own devices to recruit the needed graphic designer. We had to go through a 7-stage process to put up a job ad on the role, budget and skillset required.
Toptal vs Upwork: The graphic designer search differed on both platforms. Although both websites provide you with different hire approaches, one puts the cart before the horse and the other puts the horse before the cart.: The graphic designer search differed on both platforms. Although both websites provide you with different hire approaches, one puts the cart before the horse and the other puts the horse before the cart.
On Toptal we had the option of letting the Talent Team match us to a suitable candidate right away, Upwork didn't provide us with such. Instead, after posting the job ad, the option of letting Upwork recommend suitable candidates or invite experts from their freelance database to apply is then presented.
Talent Quality: [Toptal vs Upwork Job Role Fit]
Hiring graphic designers on these freelance platforms can be a hassle especially when you have to review several applications to identify a suitable fit.
Both Upwork and Toptal have their benefits:
Toptal
This site focuses on providing niche specialists to employers who need them. According to the Toptal website, out of 100,000 yearly applications, less than 3% are successful.
Freelance applicants to the website go through a vetting process before they can be onboarded:
1: Screening call with a recruiter
2: Skills test
3: Live screening
4: Project delivery
The vetting process requires them to prove their skills in a specialist field. Currently, Toptal accepts freelancers in the following fields:
Developer
Designer
Finance Expert
Project Manager
Product Manager
Since we were hiring for a graphic designer, we were matched with someone that had specialist skillsets in design.
Upwork
Although Upwork also provides an avenue for freelancers to specialize, the process isn't as streamlined as that of Toptal. Freelancers on Upwork do not necessarily have to be experts or experienced in certain jobs before applying for them.
So, when we posted our job ads, we got applications from different individuals. Some of the applications were from individuals who had no experience in the job role advertised, and a handful was from actual experts.
The fact that Upwork doesn't exactly vet its freelancers also opened us to the possibility of being scammed. There was an instance where a freelancer provided sample work that had been copied from an existing platform.
Toptal vs Upwork: Going through the graphic designer hire process on both platforms was as different as night and day. On Toptal the hiring process was effortless as most of the vetting had been done by the Toptal team. But, on Upwork, we were not only reviewing applications but had to put tests in place to vet the applicants to confirm their fit.
Project Cost: [Bidding & Proposals]
From a business planning point of view, we needed a graphic designer that had the right skillset, affordable, and could deliver within our timeline.
On Upwork, you can set a fixed price for your job or allow the freelancers to bid for the job with hourly or project rates they feel would be suitable. The bids on Upwork can be as low as $10.
Toptal's process differs as, during the call with the Talent Team, you're already asked to discuss your project and your budget for it. This way, the profiles of certain freelancers who match the criteria are shown to you. Toptal rates start from $60 per hour, but you can also set a project fee.
Toptal vs Upwork: If you're working with a tight budget, then Toptal might not be the first option you look at. Upwork's rates are varied and you can choose from graphic designers offering low to high rates.
Platform Cost: [Toptal vs Upwork Hidden Fees]
Trying to navigate a job platform as a new employer can be tricky especially if you don't read the fine line.
Prior to signing up on Toptal, we had heard of instances where employers got billed for the use of the platform. Apparently, there's a trial period and after this period continuous use of the platform has added costs.
Also, employers need to make an upfront deposit of $500 regardless of the project cost. The charge for the use of the Toptal platform is not clear as this is quoted on a case basis.
Upwork, on the other hand, has different cost tiering:
Free: 3% charge on all project fees
Plus: $49.99 monthly for project support + 3% charge on project fees
Business: $849 monthly for a dedicated account manager + 10% account fee
Enterprise: quote basis and comes with a fully managed solution
Toptal vs Upwork: Upwork is more upfront about their costing system. This is unlike Toptal where the costing system differs based on the project.
Client Support: [Complaints & Queries]
Both platforms are quite easy to use, but what happens when you need support?
Toptal
The platform has customer support available and you can reach out to them for most issues. You can also request an account manager, but this will come at added costs.
Upwork
For employers using the free option, support isn't easy to come by, and you're better off with the user forum. However, if you're using the paid option, then you get dedicated support.
Toptal vs Upwork: You never know when you might need the help of a client support agent, so with Toptal, you already know you have that readily available. For, Upwork, your access to client support depends on whether you have a paid plan, if not you are better off with the user forum.
Toptal vs Upwork Summary
Based on our experience, both platforms have the following Pros and Cons:
Key Takeaways: Toptal vs Upwork
Both Toptal and Upwork have their pros and cons, but, if you want to hire top quality graphic designers with no hassles, then Toptal is a better option than Upwork. At the same time, Upwork offers a varied talent pool at varied costs. However, Delesign combines the best features of both sites into one platform on its own.